Do you have the latest version of the Loop app? You can find the version number in Settings > About. Virtual solar and battery was released in App Version 1.3.0.
You first need to add your tariff details so we can tell you the impact of solar in pounds and pence.
Once you have entered your tariff, you will be asked to enter your roof details via a card on the Dashboard - or you can select this through Settings > Solar.
Once you have entered your roof details, it takes up to 24 hours to train the system, then you will see the option appear in Track.
If you still cannot see Virtual Solar and Battery, do you not have recent data? If you go to Track > Day, do you see data for today in the app?
We're constantly trying to get recent data. If you have no recent data, you can turn on the virtual solar and battery feature by following the steps below.
Navigate to Track > Month and go to a previous month where you have usage data. In the example below we've gone to April 2020.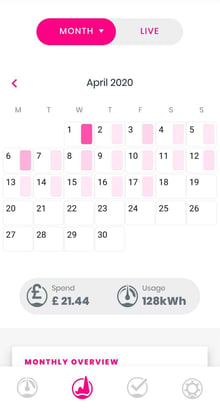 Select any day where there is present by pressing on the day. In the screenshot below the 10th has been selected.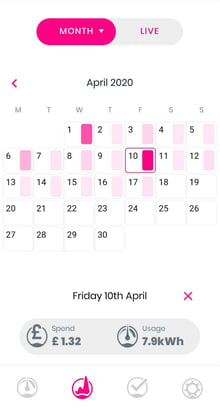 Click on MONTH in the top left to bring down the DAY/WEEK/MONTH menu.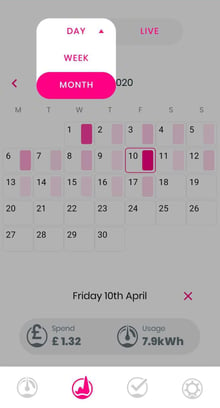 Click Day.
In this example, the Day view for the 10th April will load.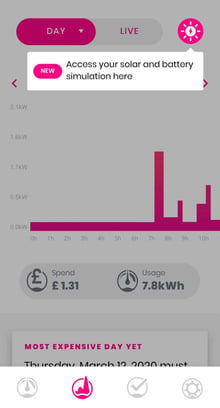 The Solar icon will appear in the top right and you will be able to view your solar simulation data.