This view is what you will see if you own the Loop monitor kit.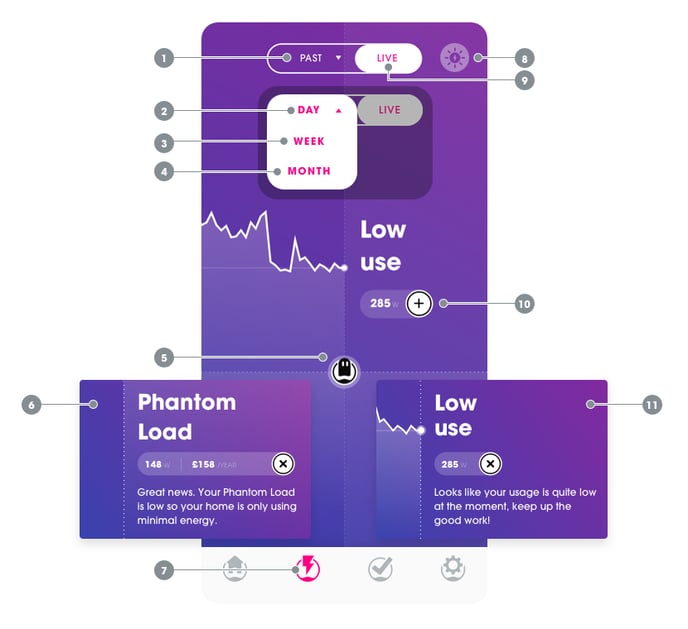 Past data access mode
Access this section for more detailed information based upon previous electricity usage and previous readings
Past data check: Day
This will provide details of your energy usage from a daily perspective. It will also display your usage in both kWh and what you have spent
Past data check: Week
Your weekly energy usage displayed in both kWh and what you have spent. You can access previous weeks by clicking on the arrow next to the display date
Past data check: Month
A calendar month will appear with red dots. Click on any day to view your total energy usage and costs
Your Phantom Load
This shows you the usage level of the your appliances that are 'always on'. While there are some items you need to have on, like your fridge or broadband router, there are lots of things you can choose to switch off. This includes standby appliances and your heating. Reducing your Phantom Load is one of the ways you can make significant savings to your energy bill.
Phantom Load - Insight box
This expandable section provides further information about your Phantom Load - how high it is compared to other Loop users like you and also how much it's costing you each year.
Loop Track icon
Menu item that gives you access to your Live and Past electricity usage
Loop Solar and Battery Simulator
Here we take a few details about your house and then forecast how much electricity an array of solar panels on your roof would have produced and when. For more information click here: Loop Solar and Battery Simulation - FAQs
Loop Track live
This is your default landing screen when accessing the Track section of your Loop app. It will advise on your current Electricity usage. A very useful tool to understand what your usage is during the day when you are either out, at work or away on holiday.
Loop Track live - snapshot usage
Your live electricity usage in Watts or Kilowatts
Loop Track live - Insight box
This expandable section provides further insight into your current Live use. If it's high, it offers insight into what might be responsible.