Loop tells me how much CO2 is emitted due to my electricity use. How is this calculated? What if I'm on a green tariff?
In June each year, the Department for Business, Energy & Industrial Strategy (BEIS) publishes emission conversion factors for use by UK and international organisations to report on greenhouse gas emissions. We use the latest version of these figures to convert your electricity usage to carbon emissions and we show you this on a card on the app's Dashboard. The current conversion factor is 233 grams of CO2 per kWh of electricity consumed.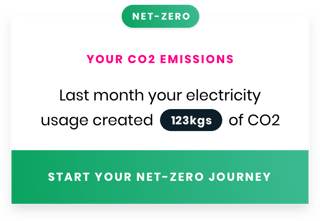 The conversion that BEIS provides is an average of the carbon intensity of the grid over the full year. In fact, the grid's emissions change minute by minute depending on the demand for electricity and the type of power plants in operation. Typically the carbon intensity is highest in the evenings and in the colder months. In time we'd like to match your usage against this changing intensity to give you a more detailed view on your emissions and how you could reduce them by moving your usage to the best times for the climate.
Many of Loop's customers are on green tariffs. There is some controversy over how green these tariffs actually are, with Which? explaining the complexity in this article. We've chosen to treat all tariffs the same for the moment but we will continue to monitor the market and consider updating this in the future.