We have introduced an additional way to join Loop that doesn't require a bank card and uses details from your in-home display instead. It remains easier and quicker to use a bank card but you now have a choice.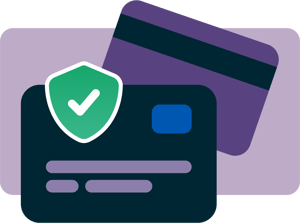 If you're unable to use your IHD - it may be missing or broken - or would prefer to use a bank card but need some more explanation about how we use it, this article provides more detail. We also suggest a workaround at the bottom for anyone who requires greater reassurance.
First of all, it's important that you know who it is that's asking for these details. Trust Power is the business behind Loop.
We're wholly owned by Low Carbon, a UK investment and asset management company founded in 2011.
Now you know who we are, we'll explain how we use your bank card as part of your Loop account creation, as well as suggesting a workaround at the end.
The first thing to say is that just like any other retailer, we never see your card details and we don't keep them - you're not giving us your card details, you are completing a £0 transaction. It is the same payment system that any transaction uses, just with no payment being taken. Our provider (Stripe) is one of the largest international ecommerce payment gateways and your details are passed straight to them for the address to be checked.
Loop is free for smart meter customers - there is no payment to join and we do not have the ability to take payment in future.
The next thing is to explain why we need to use a £0 transaction to validate your home address. The link between your MPAN and your address is semi-public and it is quite possible to find this information online.
Given that, if we relied on just your address and MPAN, someone other than the homeowner may be able to access the home's energy data. This isn't secure enough.
We spent a lot of time investigating different ways to confirm the address that is both user friendly and rigorous enough to be approved by the Smart Energy Code Company. There were a number of other ideas but we went with bank cards because most people have one, and it's relatively easy to support as there are lots of established companies offering secure address validation checks via bank cards.
So that's our logic, but we fully understand that entering your bank card on the site of a company you haven't heard of could be off-putting.
The workaround
If you want or need to use a bank card to join Loop but still have reservations, you can use a payment card from a digital bank like Monzo, Revolut or Starling with a £0 balance if you want additional peace of mind. Your card details are only used to confirm your address so there is no need for the card to hold a balance.