We explain why and provide an easy workaround below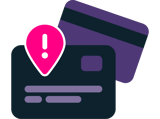 If your bank cards aren't being accepted, this may be because of a difference between how your address appears on the Royal Mail database and how it is recorded by your energy supplier.
Don't worry though - there is an easy workaround that we explain below.
Loop uses an address lookup service based on the Royal Mail system whilst energy companies often use a bespoke company-specific registration system.
One of the reasons for discrepancies is that new builds are often initially registered with suppliers to test newly installed appliances and household electrics. When the property is completed, only then is the property entered into the Royal Mail/electoral registration system. The address may be registered in a slightly different format, which causes this problem.
If your bank cards are not being accepted and you have no blocks on the cards themselves, then there is a high probability that the registered address on the energy suppliers system is different from the one on the Royal Mail system. For example:
The Royal Mail look up system may identify the following as your address:
Flat 1, Loop Court, 9 Oxford Road, London
Whereas an energy supplier has registered the property as:
Loop Court, Flat 1, 9 Oxford Road, London
Often this is the problem when your bank card(s) is not being accepted as part of our sign up process.
To confirm if this is the case, you can contact your energy supplier and ask them for the address that was used when your smart meters were first registered. This information is from the ECOES database that energy suppliers and comparison websites reference.
The workaround:
If the address registered with your utility is slightly different to the address registered for your bank cards, you can still sign up to Loop, you just need to add details manually to ensure they match:

Step 1: On the address entry screen, choose manual address entry,
Step 2: Add your address exactly as it appears on your bank card account
Step 3: On the next screen, manually enter your MPAN. You can find this on your energy bill, via your energy provider's app or in you online account with your energy provider.
Step 4: Proceed as normal to complete your Loop account setup